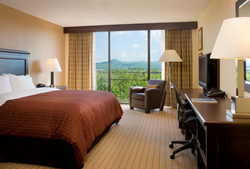 Roanoke, VA (PRWEB) March 07, 2014
The Sheraton Roanoke Hotel & Conference Center excitedly awaits the arrival of teams participating in this years Chance Crawford Tournament. The tournament began 31 years ago in an effort to help with the medical and educational expenses of a young high school Quarterback who was tragically injured during a football game. Today, all proceeds are used for many worthy causes, including college scholarships. The 2014 tournament will take place April 11th through 13th at a variety of fields throughout Roanoke, Salem and Troutville.
The Sheraton Roanoke hotel is an ideal place to rest and refuel after a day of softball, offering teams plush bedding, on-site dining and close proximity to the fields. To make your reservation today, call the hotel directly at (540) 563-9300 or book online.
The Sheraton Roanoke Hotel & Conference Center is located just minutes from Downtown Roanoke at the base of the beautiful Blue Ridge Mountains. Guests enjoy easy access to Roanoke attractions like Virginia Tech, Rivers Edge Sports Complex, Roanoke Civic Center, Taubman Museum of Art, Roanoke College, Hollins University, Valley View Mall and a variety of local shopping and dining. The hotel offers generous amenities such as free high-speed Internet access, plush Sheraton Sweet Sleeper Beds, in-room free Starbucks